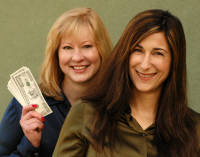 Beyond Life-Coaching
Q. What's better then having a life coach?
A. Having two life coaches! And …
Law Of Attraction coaching allowing you to create a life by design.
Affordable weekly tele-classes helping you break those old thinking habits and get through to new levels of abundance.
Law Of Attraction Coaching By Teleclass>/h3>
Here's your chance to take advantage of the new way of learning and growing – join one of the following two sessions.
They're called "tele-classes" – but they're much much more than that. From the comfort of your home or wherever is convenient for you, you join a structured group for your weekly meeting. And it's not just a "pay your money and maybe it will work" – you get to set your goals and track your progress. And all calls are recorded sp you can "participate" even if you happen to miss the actual class event.
Between classes, you check in with your group for tracking and accountability, you share emails, you give and receive support, and you share your wins and challenges.
Check out the Law Of Attraction classes provded by Jeanna and Eva –
Law Of Attraction Coaching
footer for Law Of Attraction Coaching page